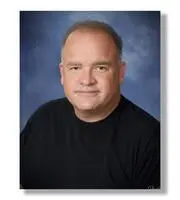 Eric Cuestas-Thompson is a bilitherapist specializing in individ ual, couples and family therapy, and maintains a private practice in Tacoma, Washington. In addition, he also assists families as an Interventionist both state-wide and nationally.
With over twenty-five years experience as a marriage and family therapist, and as a graduate of Arizona State Univerisy, School of Social Work, he is currently serving as private practitioner working with a broad spectrum of clients. Among his areas of expertise are Addiction, family relationships, trauma and PTSD, and professional and individual coaching.
In addition to being a prominent relationship therapist, Eric has presented at National conferences and to general audiences speaking on the topics of Pornagraphy, Internet, and The New Faces of Sex Addiction, Creating Safety and Comfort in Your Environment, The Impact of Childhood Abuse on Adult Sexually Compulsive Behaviors: Clinical Directions, Eye Movement Desensitization and Reprocessing: Theory and Applications, Teen Safety in Cyberspace, The Legacy of Intergenerational Abuse, Cultural Competency for the Behavioral Health Professional, HIV Counseling, and Challenge and Opportunity in Working with the Bilingual/Bicultural Client.
Eric is an interactive, solution-focused therapist. His therapeutic approach is to provide support and practical feedback to help clients effectively address personal life challenges. He integrates complementary methodologies and techniques to offer a highly personalized approach tailored to each client. With compassion and understanding, he works with each individual to help them build on their strengths and attain the personal growth they are committed to accomplishing.
EDUCATION

MASTER OF SOCIAL WORK Arizona State University, 1999
MASTER OF EDUCATION in Secondary Education, University of Arizona, 1986
MASTER OF ARTS in English as a Second Language, University of Arizona, 1985
BACHELOR OF ARTS in English, University of Arizona, 1983

LICENSES, CERTIFICATIONS and AWARDS
Licensed Independent Clinical Social Worker (LICSW), Washington
Licensed Clinical Social Worker (LCSW), Oregon
Licensed Clinical Social Worker (LCSW), Arizona
Licensed Independent Substance Abuse Counselor (LISAC), Arizona


AzAADAC COUNSELOR OF THE YEAR, Arizona Association of Alcohol and Drug Abuse Counselors, 1996

ADDITIONAL TRAINING

Eye Movement Desensitization and Reprocessing (EMDR) Level II Therapist
PROFESSIONAL ACTIVITIES AND MEMBERSHIPS

National Association of Social Workers